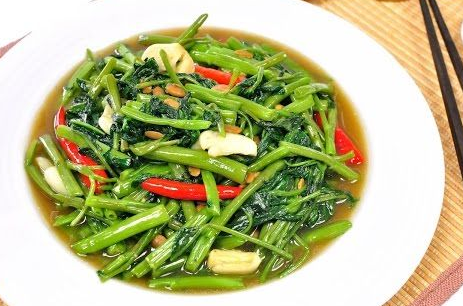 Pad Pak Gachet Recipe
I am focused on chewy issues to eat. It's among my favorite vegetables in Thai cuisine. The tangled mess of chewiness is like unraveling an entire acacia tree on a plate before you.
The sauce, customarily a gentle oyster sauce with a squirt of fermented bean sauce soaks into the stocks of the water mimosa, making every unmarried stem like a straw filled with flavor.
Pak gachet or Thai trend water mimosa, is a chewy green vegetable. The stalk section is crisp and hollow and the leaves and branches can be a work chewy or even a work hard. It is customarily stir fried with oyster sauce, chilies, and garlic to create a fragrant and crunchy textured veggie dish.
Method
To make the dressing, combine oyster sauce, sugar, sesame oil and a couple of tablespoons sunflower oil in a small bowl. Set aside.
Heat remaining 2 tablespoons oil in a frypan over medium heat. Stir-fry spring onion for 2 minutes or until in basic terms wilted. Add baby spinach, pak choy, bok choy, basil and chilli and stir-fry for 1-2 minutes until tender. Pour dressing over vegetables and remove from heat. Scatter with sunflower seeds, to serve.
Ingredients
2 tablespoons oyster sauce
1 teaspoon palm sugar or brown sugar
1 tablespoon sesame oil
0.33 cup (80ml) sunflower oil
1 bunch spring onions, cut into 5cm lengths
225g baby spinach leaves
225g pak choy, trimmed
3 baby bok choy, trimmed
2 cups Thai basil leaves
1 long red chilli, finely chopped
2 tablespoons toasted sunflower seeds
Read More : Pad Pak Ruam Mit Recipe