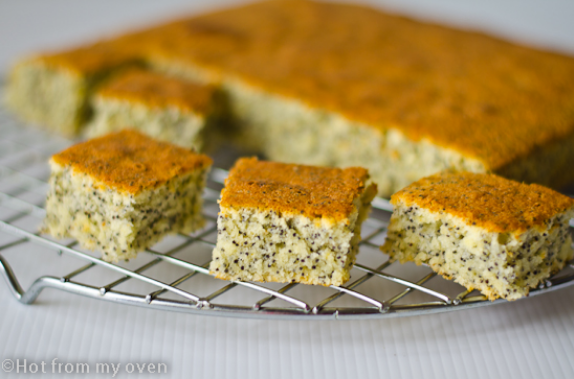 Poppy seed Cake – No sneaking around for low fat .. no guilt this time around.. its poppy seed cake for the weekend! Was planning to treat myself with a rich cake with succulent cream cheese icing before I get back to my routine. Unfortunately it raining cats and dogs here in Singapore for last two days . So the laziness got the best of me and I chose to keep it simple. Nevertheless it's a fluffy soft cake with the wicked poppy seeds. I am loving it.
Poppy seed Cake
Ingredients
½ Cup Milk
¼ Cup Poppy Seeds
1 Cup Flour
1 tspn Baking powder
Pinch of salt
½ Cup + 2 tbspn Sugar
Juice and Zest of half orange
2 large egg whites
Directions
Bring the milk to a boil in a sauce pan. Remove from heat and add the poppy seeds and let it cool.
Combine the dry ingredients- flour, baking powder and salt and sieve together
In a large bowl, cream the butter and ½ Cup sugar.
Add in the Orange zest and juice and beat well.
Add the flour and milk mixture alternating to the creamed butter.
In a dry bowl, add the egg whites and beat until frothy
Add the remaining 2 tbspn sugar and continue to beat until stiff peaks are formed.
Fold in the egg whites to the batter in two batches
Bake in a 180 degrees pre heated oven for 30 minutes.