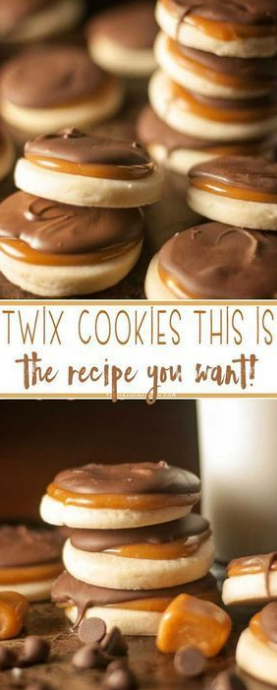 TWIX COOKIES
Author: Made From Pinterest
Recipe type: Dessert
INGREDIENTS
1½ cups softened butter
1 cup powdered sugar
3 cups flour
1 teaspoon vanilla
¼ teaspoon salt
15 oz caramel **See notes
2 cups milk choc chips
2 tsp shortening
INSTRUCTIONS
Preheat oven to 350 degrees
Cream butter and sugar together. Add your vanilla, flour and salt. Mix well.
On a lightly floured surface, roll dough out to ½ inch thick.
To cut cookies you can use a biscuit cutter or I just used a small glass that was 2 inches wide.
Place round cookies on a lightly greased cookie sheet.
Bake at 350 for 14-16 minutes.
Let cookies cool.
Melt caramel and spread the caramel over the cooled cookies.
Let caramel cool completely.
Add your shortening into the chocolate chips and melt in the microwave. Use a microwave safe bowl and watch
so that the chocolate does not burn.
Spread melted chocolate over cooled caramel.
Let chocolate set before serving.
Do not put in the refrigerator as it will discolor the chocolate.
NOTES
I use Peter's caramel which comes in a 5 lb block. You can just cut off what you need, melt it and it's ready to go. If you use the Kraft caramels, follow the instructions on the bag for melting.
Source Recipe : www.thisgrandmaisfun.com