Buttermilk mashed potatoes can be a perfect side dish for major dishes like roasted chicken, beef and even thanksgiving turkey. For your information, mashing your potatoes could be a very good activity to fill in your spare time. Moreover, mashed potatoes are very low fat so that it will always be okay for you who are in diet program. This recipe is very creamy inside and outside. I suggest you to use Yukon gold potatoes here in order to make skinny mashed potatoes. This kind of mashed potatoes has very good texture and taste in our mouth plus the buttery and its perfect look within golden cover.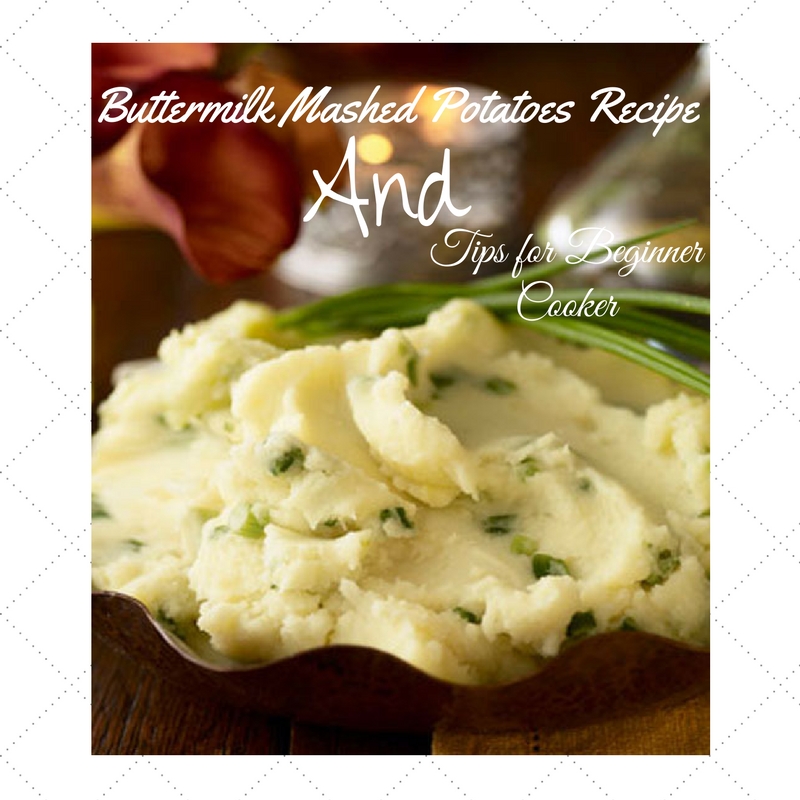 Ingredients
If you want to make buttermilk mashed potatoes for a big event like Thanksgiving, I will suggest you to double these ingredients because the current amount is just for the small portions around ten serves so that it does not suit for Thanksgiving side dish after all. Meanwhile, the buttermilk should be depending on your desire. The mashed potatoes are also good without the buttermilk. Thus, your desire should be as wish as possible while making this recipe. The duration of cooking this recipe is approximately reaching forty minutes. Hopefully, you make it on time.
Peeled Yukon gold potatoes 4 pounds
Pepper and salt sufficiently
Margarine 2 tablespoons
Green Onions 3 bunches (sliced)
Buttermilk 1 ¼ cups
Water
How to Make
To make my buttermilk mashed potatoes, you should prepare the ingredients above. After that, combine some ingredients such as salt, potatoes and water in a saucepot. Boil them all into a medium heat to low heat. Simmer and cover the boiler if necessary for twenty minutes.
At the same time, prepare a nonstick skillet beside the boiler. Melt the margarine over medium heat. Take the green onions and then cook them all on the skillet until they have tendered. Stir frequently for better result. Afterwards, your buttermilk is ready to be added on the skillet. The lukewarm heat is preferable. Keep stirring the mixture occasionally around five minutes and remove the skillet after that from the heat.
Take your potatoes and the drain them all. Bring them back onto the saucepot. Once again, heat it over low heat to make the mixture dried. It is usually about two minutes. Take your potato masher and mash the potatoes. Take the buttermilk mixture and add it into the saucepot with salt and a half of a spoon black pepper. Continue the mashing activity until your potatoes are smooth. If necessary, you can reheat the saucepot occasionally. The buttermilk mashed potatoes are ready to serve.
Tips
There are several tips that you can conduct before making this recipe at your home. We start from how to choose the right potato. The types of potatoes become a crucial factor when you want to make this recipe. If you choose incorrect potatoes, it will give significant impact when you are mashing them. In addition, gluey or lump potatoes have no complaint with the sauce that you will make. You can start choosing russet potato. Russet here is literally brown. Then, the texture can be tested by you easily. I am sure that you can decide whether it is firm or mealy.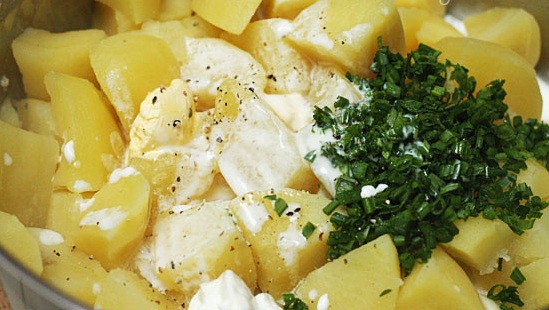 Mashing Tips
The next tip of buttermilk mashed potatoes is about how to mash them properly. Of course, I really recommend you to use potato ricer for this job. But, potato masher is the alternative one here. Although you do not have the potato ricer, at least you have the potato masher. There is also another tool called electric mixer for potatoes. However, this one is not very recommended since it will always increase the possibility of gluey potatoes. If you do not have any tool, use your own hand. Work it out with your hands down.
Basic Cooking
This recipe is actually the very basic cook. I am sure there are many people who are able to create their own buttermilk mashed potatoes these days because it is easy and simple. However, every work requires time and effort obviously. For example, preparing the potatoes is a job which requires much patience because you need to wash, peel and cut them all before you can cook them. This is a kind of basic cooking activity, isn't it? Moreover, you have to get consistency in sizing your potatoes, right? For beginner, I suggest you to make those potatoes are easy for you. You can place them for some minutes in cold water first.
Seasoning
Last but not least, our recipe cannot be perfect when you have no good seasoning after all. Extra butter and sour cream are the best example of seasoning in this case. In addition, the roasted potatoes are also a best effort to increase the taste of this recipe. There are many additions that you can make to have perfect buttermilk mashed potatoes such as roasted garlic, wasabi, cheese, bacon, chives, sundried tomatoes and many more.