Chocolate Chip Banana Bread Recipe that Can Stay Up to 3 Months with Nutrition Facts – In this article, we would like to show you chocolate chip banana bread recipe. We do not only show about the ingredients and how to make it, but also share about the nutrition facts inside this recipe. For your information, banana bread is the bread that is made from mashed banana. The texture of this bread is sweet and moist in our mouth. Mostly, children love eating this bread while their moms love creating the recipes by using banana bread. Luckily, we have to special recipes of banana bread with chocolate chip as additional ingredients. This recipe is very sweet for your dearest one.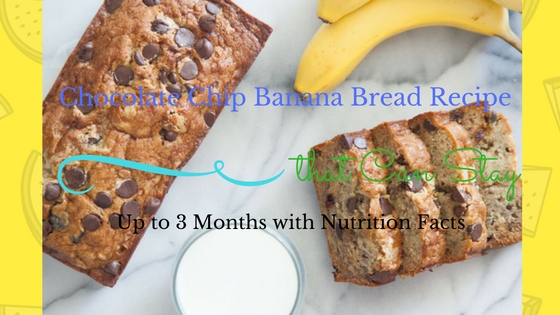 Making Chocolate Chip Banana Bread
The first chocolate chip banana bread recipe is good as your friend in the morning. We have to notice you that please melt the butter firstly before you to start following the instructions. We will talk about the nutrition facts of this recipe after everything has done later. We also recommend you to use two medium size bananas for this recipe so that you can serve it as many slices as you want. In addition, it will stay up to three months if you freezing it on the freezer. Without further ado, here are some ingredients that you need to prepare for this recipe.
Ingredients:
Melted butter                      100 grams
Self-rising flour                   2 cups or 300 grams
White Choc Bits                   1 cup
Dark Choc Bits                   1 cup
Brown sugar                       ¾ cup or 155 grams
Dry coconut                        ½ cup or 45 grams
Soda                                      1 tsp
Mashed ripe banana          1 cup or 260 grams
Milk                                       1 cup or 250 ml
Eggs                                       2 grains
Butter for greasing and serving
Instructions:
First of all, you have to preheat the oven around 200 degrees of Celsius before you follow this chocolate chip banana bread recipe. After that, prepare the melted butter and get ready to grease. We recommend you to use two loaf pans that have 9×19 cm of dimensions. Brush the melted butter on them. We are going to the next step. Prepare the flour and then place it with sugar, soda, white and dark choc bits in a large bowl. This will be the mixture. Make sure you have stirred them frequently. Then, take another bowl in medium size. Mix the milk, butter, banana and eggs inside it. Once you have done, mix it with the flour mixture before. Once again, you have to stir and stir them all until blended. Go back to the pans. Pour the mixture and smooth the surface by using a spoon. They are ready for baking phase. Wait it for about forty minutes. The sign is just by looking at the skewer inserted. If it is clean, it means that your bread is ready. Cool it down on a wire rack. For freezing it, slice the bread thickly. Wrap them in the plastic wraps. For serving, give your grill a high heat. Cook the bread under it and let them become brown on sides.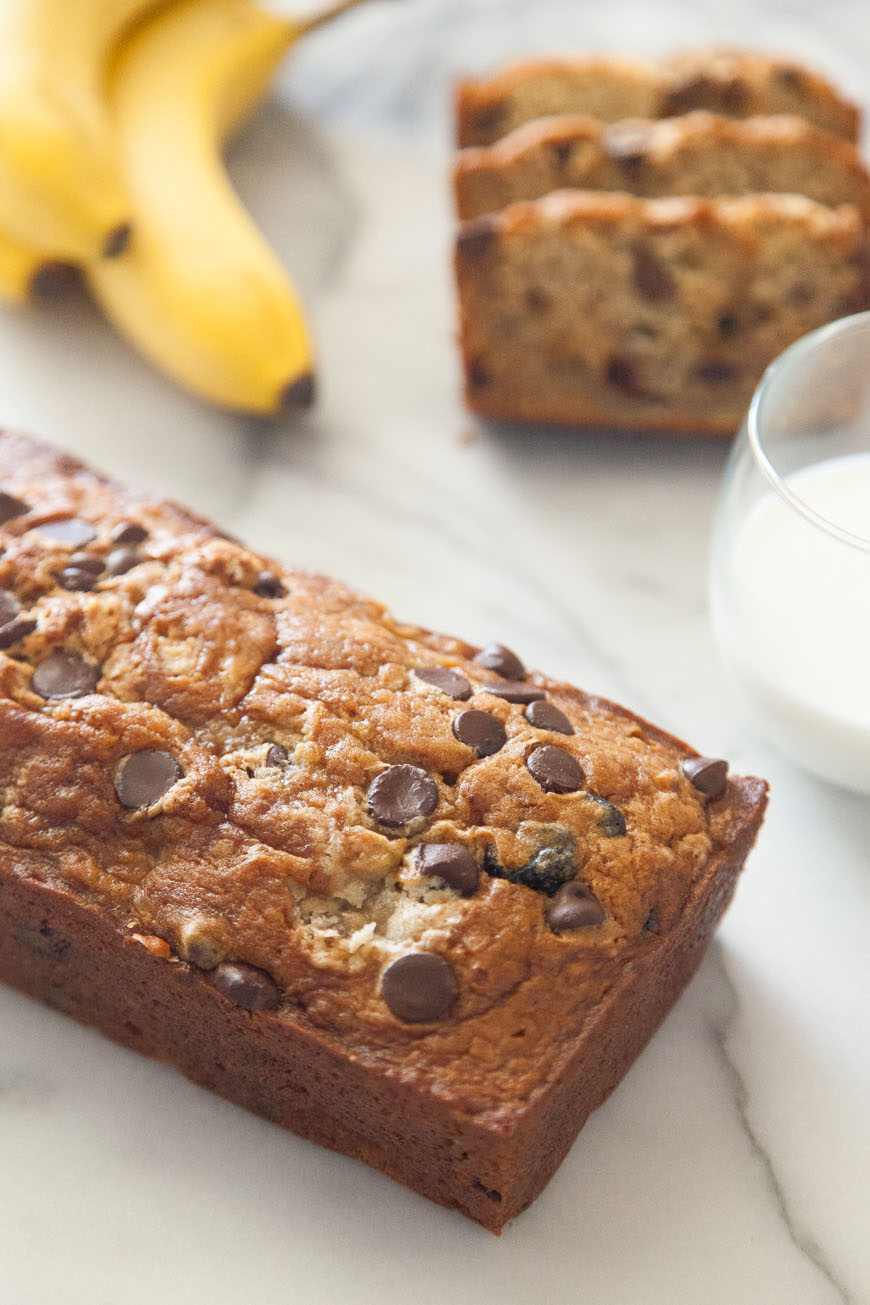 Nutrition Facts
This chocolate chip banana bread recipehas some nutrition facts, which is good for our health. For your information, this bread offers 20 grams of fat saturated only. The total fat that we got here reaches 31 grams with 52 grams of carbohydrate sugars. There is no cholesterol and dietary fiber after all. Meanwhile, the total carbohydrate is around 82 grams. Of course, this recipe provides protein but not too much. It is just at 11 grams. The last nutrient is sodium. We got 678.53 milligrams in this bread so far. As a result, this bread is very good as our dietary food if you do not want to consume banana directly. Without cholesterol and less carbohydrate, your weight will be managed properly, won't you?
Flavor
After you know our special chocolate chip banana bread recipe plus its nutrition facts, we are going to see some facts about the flavor of our banana bread. Of course, it is very simple and easy-to-follow. But, you might not know the flavor of it, right? Okay, let us go to the first fact. This banana bread has moist. Perhaps, this is the most difference between our banana bread and dry banana bread. Secondly, you will taste chocolate flavor on this recipe. Thanks for the chocolate chips that add more sweetness for us today. Thirdly, it has no nuts after all. You may add nuts if you wish. Lastly, the dominant flavor is just like banana's taste but it is sweeter than you thought before. That is all we have for the fun facts of this recipe.
Conclusion
Eating chocolate chip banana bread recipe may bring the health benefits of banana obviously. As far as we know, banana is good as our meal especially in diet program. This fruit can be modified into fresh and healthy bread too so that we won't be bored to eat banana every day. See you on the next banana bread recipes.
want another interesting recipe please visit Resep Mami.