Margherita Pizza Recipe for Homemade Pizza Lovers
Having this margherita pizza recipe will make you day become sweet and lovely because this pizza is special and of course homemade. This is a kind of delicious pizza which we can make in our home. We believe that all of you will love it whatever the results. For your information, pizza comes from Italy and this is only one of the types of pizza that we have known so far. The price is also not expensive. Just by 3 euros, you can eat one of the best foods in the world. This pizza is also huge and delicious. You may come to eat it once again tomorrow. What if we can make it now? Of course, it will be beneficial for us. Without further ado, let us go to the business in our kitchen.
Equipment
Talking about the equipment in making margherita pizza recipe, you really need a baking stone. This is the standard equipment in the kitchen to make pizza. It is okay if you have bulky one. As long as you can still use it, just use it now. The use of a baking stone is to absorb the heat especially from the oven. Surely, it is the expensive one. But, it is worth it as your investment because you can make pizza as long as you have it. The best part is that you do not have to spend much money to buy pizza because you can make it directly from your kitchen. This equipment provides the same heat as brick-ovens which have more than 800 degrees Fahrenheit. Another important stuff is the pizza peel. With it, you can slide the pizza as quick as possible onto the stone.
Toppings
After you have prepared the equipment, it is your next move to prepare the toppings of your margherita pizza recipe. It requires much raw tomato sauces than you thought before. We recommend you to buy canned tomatoes for the toppings. Then, you also need garlic, olive oil, pepper and salt. That is all you need for the toppings. Ah, you can add mozzarella. The key point in making the toppings is as thin as possible. Please prevent to make thick layer of sauce for your pizza. As the finishing touch, you really rely on the torn basil and virgin olive oil.
Ingredients
Without further ado, let us go straight to the ingredients of margherita pizza recipe. Starting from the base:
Bread Flour                         300g
Instant yeast                      1 teaspoon
Salt                                         1 teaspoon
Olive oil                                1 tablespoon
Then, here are the tomato sauce ingredients as follows:
Passata                                 100ml
Dried basil                          1 teaspoon
Crushed garlic                   1 clove
Topping ingredients:
Sliced mozzarella              125 gram
Shaved Parmesan            handful
Halved cherry tomatoes
How to Make
As same as the ingredients, we have to make the base of this margherita pizza recipe first. Prepare a large bowl and then put the flour within it. Stir the flour with salt and yeast properly. After that, make a well from the flour. Place 200ml warm water in the middle plus olive oil. Make soft and wet dough from that mixture. Then, please make smoother dough for five minutes by kneading it. After that, cover the dough with a tea towel. You may leave this dough for a while. The dough will be raised slightly. Actually, it is okay if you keep it thin.
After the base is ready to bake, it is time to make the sauce of the margherita pizza recipe. Collect the ingredients above. Mix the passata, garlic and basil altogether into one. If you need a tasteful sauce, seasoning is necessary. At this point, you can leave the sauce mixture and back to the dough.
Once your dough is risen up than before, divide it into two balls. Just knead it. Take a rolling pin and then roll out the floured surface. It will be large rounds about twenty centimeters right now. In this case, your dough should be thinner than before because it will be rising when you place it in the open. At last but not least, place it on the baking sheets.
Now, it is time to bake your dough. Preheat the oven around 240 degree Celsius. Prepare your baking stone as another baking sheet on the top. Go back again to the sauce and smooth them up by using the spoon. Scatter the remaining ingredients such as cheese and tomatoes. Drizzle them all with olive oil. Bake the first pizza for ten minutes and do the same with another pizza. Lastly, you can serve them with basil cloves.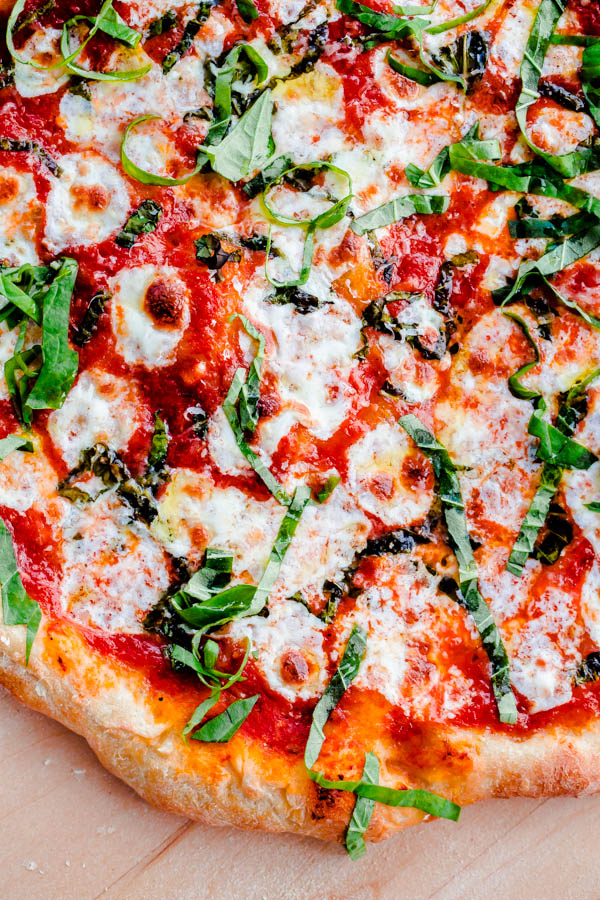 Tips
There are some tips regarding to the instructions of making this pizza. When your dough is too wet, make sure you add more flour and work it once again. If you dough is too hard to be rolling out, leave it for ten minutes and then try rolling it again and follow next step of margherita pizza recipe.