Mexican Beans Recipe with Chicken and Side Dishes – In this article, you do not only read one Mexican beans recipe, but also other several recipes which relate with beans. For your information, Mexican beans are very popular because they offer different and unique characteristics in our mouth. In addition, these things are the part of Southwest's eating every day. The first recipe will show you how to cook Mexican beans. Meanwhile, the second one is a variation that you can make through Mexican beans. Hope you enjoy this recipe today and make your day more crunchy and spicy with these recipes.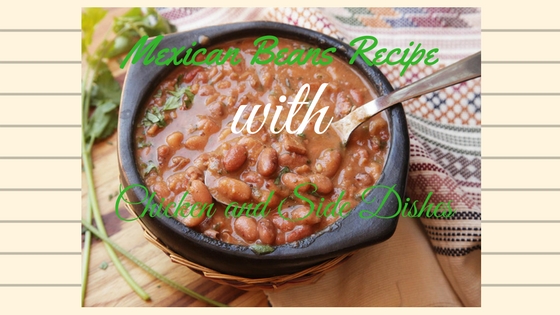 Chicken and Mexican Beans
Here are the ingredients of chicken and Mexican bean recipe as follows:
Chicken breast strips                      1 lb
Seasoning mix                                   1 package
Black beans                                        1 can (15 Oz)
Kernel corn with peppers             1 can (11 Oz)
Water                                                   ¼ cup
Flour Tortillas
That is all what you need to cook this Mexican beans recipe. Now, it is time to see the instructions.
Use cooking spray to 10-inch skillet. Afterwards, add the chicken breast strips on the skillet. I suggest you to use medium to high heat for eight until ten minutes. Moreover, stir them in occasionally for best result. When you do not see the pink color in the center, it is when you go to the second step.
Take the seasoning mix and stir it with kernel corn, water and beans. Cook them all with medium to high heat for eight until ten minutes. Your sauce should be thickened firstly before ready for serving. At last but not least, you can now serve the food with tortillas.
That is all what you need for this recipe. It is very simple, isn't it? Just by two steps, you are able to make a good recipe with a combo of chicken and Mexican beans. For better understanding, I also prepare the expert tips below of this section.
Tips for Chicken and Mexican Beans
First of all, you can modify my Mexican beans recipe with a full of fiber and other important nutrients. As we know, beans are the source of fiber which will adjust your blood glucose properly. If you cannot find any chicken strips, you can opt for alternative choices like chicken breast fillet or thighs. This also happens when you have no choice to replace the beans. The black beans would be a good choice for it. This dish can also be perfect if you also cook the side dishes. Frijoles charros is what we are talking about. Because of its perfect mate, I also present this recipe below.
Frijoles Charros
This is the next Mexican beans recipe that you can cook every day in your home. Before you go all in for the tomatoes, we prefer to use Roma tomatoes for better taste. In this case, you have to char the tomatoes firstly on a grill in order to remove the tomatoes' skins easily. Without further ado, let us go to the ingredients below.
Ingredients:
Dried pinto beans                            1 pound
Kosher salt
Diced bacon                                       12 Oz
Onion (white or yellow)                    8 Oz
Chilies                                                   2
Garlic                                                     3 cloves
Diced fire-roasted tomatoes            2 cans
Chicken stock                                    6 cans
Bay leaves                                           2
Fresh cilantro                                     2 leaves
Instructions:
Prepare a large bowl and double water. Add the beans, 2 tbsp kosher salt into the bowl. Stir them in in order to dissolve both ingredients. After that, saturate them for twelve hours. Then, drain them and do not forget to rinse too.
Give the bacon some heat inside of a large oven. I prefer to use medium to high heat. Afterwards, stir the bacon frequently until there is no more fatness and the color is brown especially on its edges. Add the chilies and onion too after five minutes. Wait again for four minutes until they are softened and brown. Once again, add garlic into them for thirty seconds. At last in this second step, you can now add the tomatoes. Cook them all with some stirrings until they look browned. Once the liquid gets thicken, it should be about three minutes.
The last step is about adding the remaining ingredients such as chicken stock, bay leaves, beans and kosher salt. Boil them all over high heat and do not forget to cover and simmer the beans until they are tender around 45 minutes. After that, remove the cover and continue to stir the mixture frequently. Finally, the broth looks creamy and it is time to season it with salt. Serve this Mexican beans recipe without bay leaves.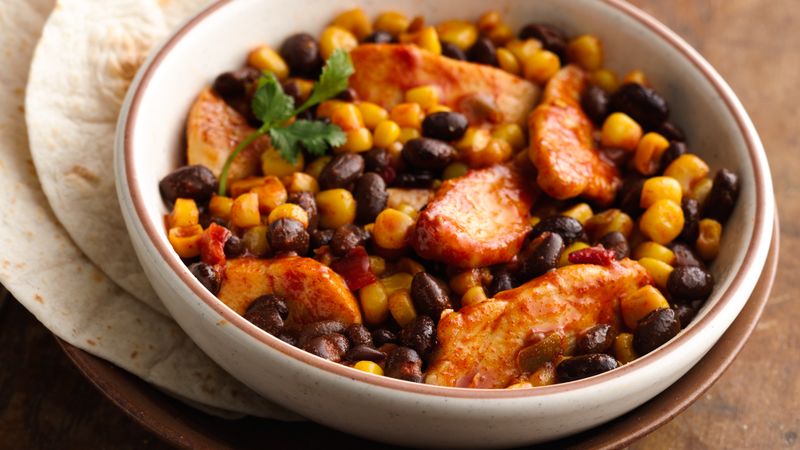 Conclusion
Overall, both recipes are easy-to-follow. You can make them every day in your kitchen with simple ingredients and of course the beans. It does not matter whether you use pinto beans or not. The point is that it should be Mexican beans. There are many Mexican beans over there that you can choose wisely with your budget and necessity. Hope you can apply and follow our Mexican beans recipe today.